Icing on the Cake! Boost video engagement with trending filters on GliaStudio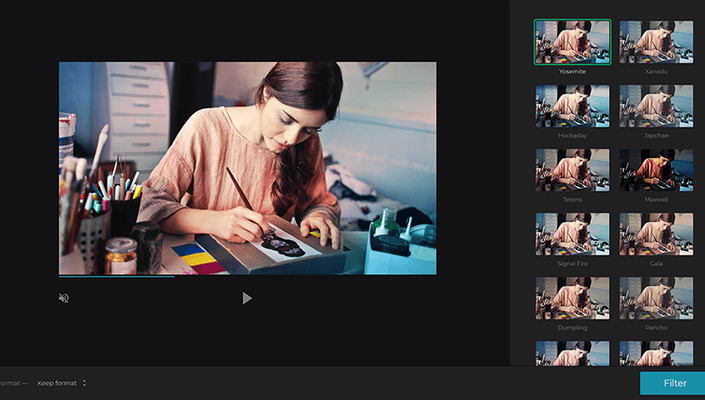 Find out which filter that will work best for your creation!
Today where social media platform and internet has become a pertinent part of human society, media spread — in any form — is quicker than before. Yet it is very interesting given the fact that, instead of more raw images and videos shared, people are even more paying extra attention and particular effort on giving a final touch to their creation. Not only due to the aesthetics factor, which will always be the main concern but also surprisingly, engagement. The sam study identified that filtered photo and video have higher chances of receiving views (+21%) and comments (+45%). It explains despite the rigorous time will be spent on polishing, editing, and filtering now seems to be a necessary step before the videos and/or images revealed to the public.
There is no right or wrong when it comes to video or photo editing. The usage of the filter is subjective. The trends are ever-changing. There is absolutely no hard rule about it. However, statistics and studies show that certain criteria on filter does help photos or videos gain more than without. A study about how filter impact engagement unveiled that filter that increase warmth, exposure, and contrast is more preferred to the audience. Therefore it leads to higher engagement.
Skill is no longer an issue to polish your images and videos. Preset filter effects now available in almost every photo or video editing platform. Mask amateurish shot or poor quality media and creatively personalized the creation. It is safe to say that filter effects can affect significantly to distinguish existence of the creation once it is enter the sea of noisy media. GliaStudio also features several filters to further personalized your video creation. Nineteen different variety of filters provided to beautify your creation even more! From outdoor to indoor clips, portrait to landscapes, food to fashion, GliaStudio gets you covered.
Here are several most used filter in Instagram that will suits perfectly on your creation:
Data analysis conducted in 2014 found that more than 100,000 photos uploaded to Instagram were edited using XPro-II filter effect. Followed by Lofi, Earlybird, Rise, and Amaro with more than 70,000 photos sit at the top five list. The bottom five filter effects consist of less familiar or less discussed filter which is Apollo, Poprocket, Gotham, Willow, and 1997. Tho there are the most popular and least popular effect, different object or video theme require different filter effect to effectively support the quality enhancement of the video. Below are the lists of filter selections for each different occasion
Nature filters: Valencia, Brooklyn, Amaro, Early Bird, Mayfair, Aden.
These filters tend to brighten and soften your photos or videos by slightly desaturate it. With the right selection and situation, it's perfect to either give a warm or cool vibe to your creation.
Fashion Filter: Valencia, Aden, Reyes, Inkwell
These filters gives you warm and pastel old-time looking touch. If you aim to showcase vintage fashion style, these could be the right selection.
Food Filter: Amaro, Aden, Brooklyn, Inkwell, Maven
These filters warm up your cold-looking videos. Which makes it perfect to be applied on food and deli scenes.
Portrait Filter: Aden, Valencia, Gingham, Perpetua, Stinson
These filters slightly hide the imperfections and blemishes on the skins. It also gives a dreamy and calming ambience for your creation.