3 Ways to Monetize Your Blog with Ads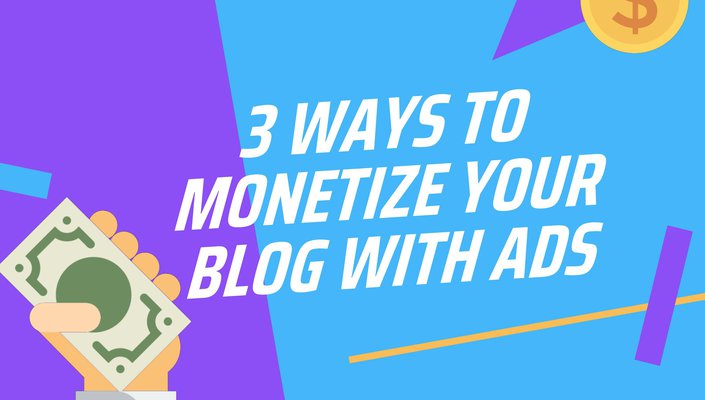 Mirror, mirror on the wall. Tell me how to monetize my blog...
Earning money by means of blogging is a huge opportunity. According to 2019 Blogging Statistics, the most common reason for blogging is making money, with two-thirds of bloggers surveyed naming it as their main motivation. Undoubtedly everyone wants to see cash flow in all day after writing an attractive post. But monetizing your blog requires to put much more effort than you have ever thought. There is a variety of ways for monetizing a blog on Internet, one of which is advertising.
In pursuit of maximum ad revenue potential, you can check out 3 of our ways to maximize profits with advertising on your blog!
1. Sell Advertising Space Directly
If you're already getting an enough traffic, you may want have everything under control and sell directly ads on your blog. While Google AdSense is the most popular way to sell ad space on your blog, it is not the best option for you. There are lots of advertising networks that can serve as an intermediary between you and advertisers. However, if you sell ads space directly, you can realize so-called 'disintermediation' and maximize the amount of ad dollars you can earn. Without Google AdSense you won't get paid per click (PPC). Instead you can charge for the placement of ads, or by impression. The more traffic you have to your site, the more you can charge for ad placement!
2. Optimize Content with Ad Inserts
You can sell ad space on your blog, but it need to be well-organized. Keep your ads relevant and do not obstruct user-experience to keep them at optimum levels because annoying ads will drive readers away.
Based on recent customer surveys,
83% of people agree upon the statement "Not all ads are bad, but I want to filter out the really obnoxious ones."
Moreover,
77% of people agree upon the statement "I wish there were a way to ad-filter instead of ad-block completely."
As it turns out, what the consumers really hate is not ads, but bad ads.
The advertising that is most resented for consumers is pop-up ads, at a rate of 73% disapproval .
So if you want to insert ads in your blog, remember to make them fit into your blog's content.
3. Native Video Advertising
Video advertising has become an indispensable part of marketing strategy. According to McQuivey's Forrester Research, a minute of video is worth 1.8 million words of text. Given the high recall power and varying strong pull of audio and video mix in video marketing, people will likely bear it in mind. However, we visit blogs because we're interested in its content, so why not tailor the content of the advert to match the blog? Native Video Advertisingcan realize your dream. For example, GliaAD Sharing, a native video advertising tool can help you automatically transform articles from your blog into videos to monetize content. While embedded ads in their videos to share revenue with advertisers. How easy way to monetize your blog! Try it now!
Monetizing your blog with Ads was never easier! What are you waiting for?
Source:
https://smartblogger.com/make-money-blogging/
https://www.vieodesign.com/blog/new-data-why-people-hate-ads
Edit: Angela Liu