3 Key Points You Should Know to Make Videos on Social Media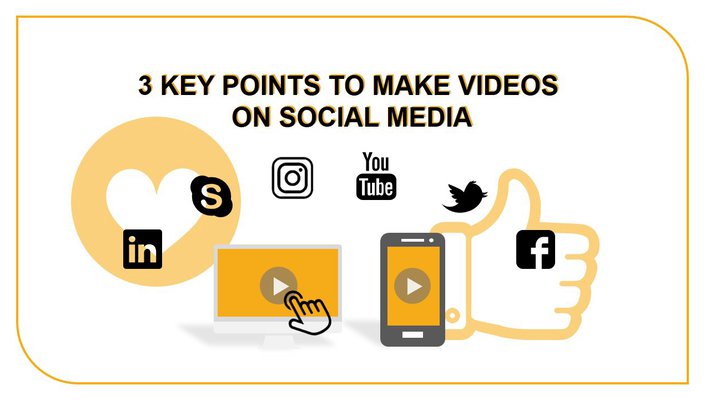 Short videos can reach millions around the world via social media platforms. This trend fascinates millennials and generation Z, in order to keep up with the fad, it's crucial to build a connection with your audience through social video engagement nowadays. Here are 3 key points you should know to make videos for social media.
1.Make good use of the first few seconds
Time Magazine placed a study published by Microsoft, showing that people lose their focus after about 8 seconds, even shorter than a goldfish. It is safe to say that people nowadays decide to watch a full length video depends on a blink of an eye. Therefore, it's vital to capture viewers' attention within the first few seconds to drive them to watch the video until the end. You can arouse viewers' curiosity by creating an attractive opening. A powerful beginning can also deliver messages to your audience strongly and resonate with them more deeply.
2.Tell an attractive story
Intriguing storytelling is the key to effective videos. A compelling and creative story can resonate powerfully with viewers. To make them truly engage in your content, you can motivate and persuade your audience through storytelling. The research published by Harvard Business Reviewshows that oxytocin, a chemical that naturally exists in human brain, makespeople more emotional and compassionate when they are watching things that they can relate to. An aspiring story appeals to viewers and helps you build strong connection with them.
3.Keep your video short
As mentioned above, people's attention span is declining. Short videos are blooming and become more popular on social media. This can be noticed, since every social media platform has a maximum for video length. For example, you can only upload a 30 second video on Twitter and a 60 second video on Instagram. To engage viewers effectively and quickly, you should cut the unnecessaries and fill the high-quality contents, keeping videos clear and succinct.
To catch up with the trend of short videos for social media, a content automation platform, GliaStudio, makes its debut. GliaStudio is an AI video creation platform that smartly converts text articles into videos. We're here to simplify the complicated and time-consuming process of editing. GliaStudioprovides handy interface and can be easily learned within few minutes. No need to worry about the technical difficulties! As long as you are creative, you can create a trendy video instantly.
Are you ready for the age of short videos? Be sure to make good use of the first few seconds to catch the viewers' eye, touch their hearts with your fascinating storytelling. Keep your videos short, and let GliaStudio do the magic! We generate your videos automatically in a short time. Follow these key points above, and you can create VIRAL videos on social media!
Watch the video that converts by this article!
For more details, send an email to: info@gliacloud.com
Visit our website: https://bit.ly/2RUon2D
Source:
https://www.lyfemarketing.com/blog/social-media-video/
https://www.socialbakers.com/blog/social-media-video-tips
Edit: Joanna Yu