Add External Source Media
Create a video with zero of your personal media assets is now possible! Gliastudio provides thousands of free photo and video stocks for unlimited use! You can also paste your URL for more options.
How to Add Media without Upload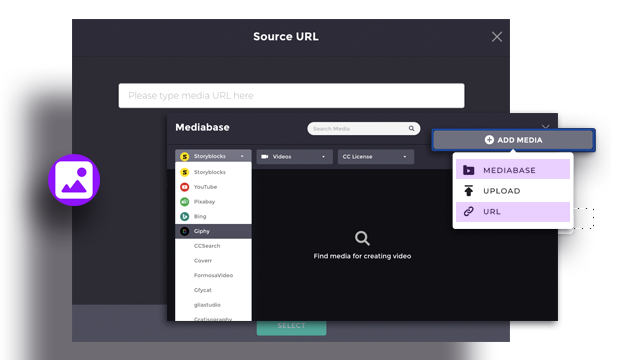 1. Add the Media
Click the 'Media' icon on the left bar and clicks '+Add'. You can select the media from the Gliastudio media library 'Mediabase' or retrieved from other sites through 'Source URL' as the alternative to upload your media.
2. Find the media
Gliastudio 'Mediabase' includes thousands of free video and photo stocks from Unsplash, Storyblock, Bing, Pixabay, Giphy, and many more. Simply enter the keyword to find the right clip for your video. You can also paste your media URL for more options.
3. Select to add
Thicken the media that you want to select and click 'Select' to automatically add the media to your Gliastudio account for you to use during the editing process.
Other Tools
Turn your images into video file that engaging in minutes!
Play your game right! Do you know that the size of your video is as important as the content of your video? Identify your best video size to enhance your audience's experience while enjoying your majestic creation!
Highlight the moment worth captures!