Duplicate Video File
Make several version of your edited video by simply edit the duplicated file without losing the original
How to duplicate video file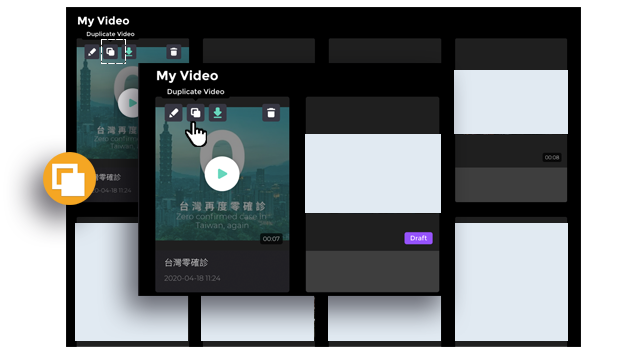 1 Select the Video File
Select the video file that you would like to duplicate.
---
2 Click the Duplicate Icon
Click the duplicate icon on the very left side of the top bar.
---
3 Duplicate the Video File
Wait for the video file to be duplicated and the duplicated video will be added (Copy) on the file name.
Other Tools
Optimize the performance of your video across platforms by fitting your video content to the frame
Turn your video into GIF in few simple steps!
One of the keys to creating a great video is the clips that glide eloquently. Having several footages combined sometimes can be rough and tacky. It is an absolute nightmare for all video editors. Unite all of your video footages together by applying the transition effect of your choice!