Fit to Video
Fit your video into any kind of video dimensions.
How to fit video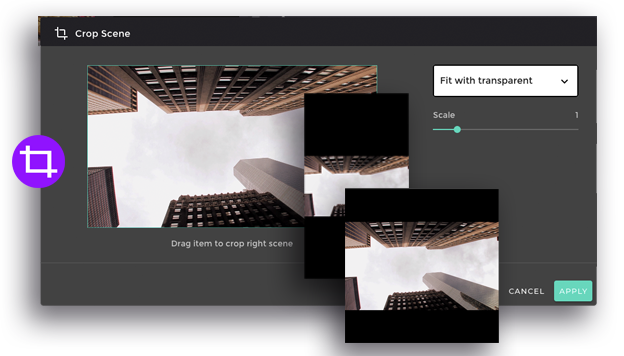 How to:
1. Select the video size
Click "+CREATE VIDEO" to start. Select either Article to Video, Theme to video, or Template to Video depends on your need. Then select the size you want to apply on your video.
2. Adjust the fit
To crop the video, you can click the "..." icon for more editing. You can find the icon below the editing function. Click "Crop" to adjust the video on the frame. Select 'Fit to Screen' to automatically fit the video depending the selected size and layout.
3. Apply the change
Click "Apply" to save the change and close the editing box. Preview the edited version by placing the cursor on top of the clip. Simply redo the process if you are not pleased with the result.
Other Tools
Share your video link to be previewed by others before exporting or downloading
Mute video is currently trending among social media users. Optimize your social video with one!
Create your video online without downloading or installing