3 Trends in the Video Automation Industry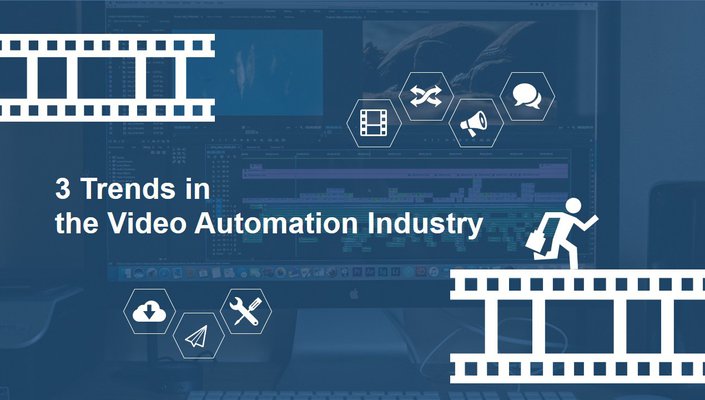 Chase it fast! Don't let yourself being left behind
By 2019, video data will account for 80% of all website data. Video automation becomes more valuable since videos can catch people's eyes quickly and are used as a medium to engage viewers. Nowadays, the video automation industry is blooming and revolutionizing on social media platforms and journalism. Automation also helps to simplify video editing in order to save time and to be more productive. Here are some trends showing how video automation effects upon the development in this industry.
Shorter videos
Making the video short and sweet helps video automation succeed. Complex contents is time-consuming for viewers and difficult to engage them. Video automation tends to be a straightforward and powerful communication. Automated video creation is based on interconnected information, and generate valuable content that is analyzed and selected. As short and simple videos are easy to be understood and to be shared by viewers, they become the trend on social media.
Create trending videos with AI
One of the key technology for pushing video automation forward is artificial intelligence. AI technology allows publishers and journalists to get more details about the latest news faster. It can filter relevant historical data and deliver required information. By using video automation, information can be smartly converted into videos in a short time, so that trending videos can be spread more quickly. Automation also simplifies the complex editing procedure and helps people to gain more time for creativity and concentrate on developing high-quality content.
Nowadays, AI can even convert text articles into videos in a few minutes. GliaStudio is an AI video creation platform. It can automatically analyze the content and create videos with text-to-video technology. It also provides simple interfaces and is easy-to-use for everyone. With video automation, it's easy to generate AI-powered video and to deliver trending videos faster.
Target oriented videos
In addition to saving time and simplifying the process, video automation aids in creating more target oriented content. AI can cope with the data collection, then analyze the trends to identify the most relevant and useful information. Data analysis helps publishers and journalists to improve the contents. Video automation can also make the video more viewer-oriented. It is beneficial to generate videos to engage and communicate with audience.
In the field of video automation, AI revolutionizes the industry and creates intelligent production. It also builds connections and engagement with the audience. Video automation creates shorter videos to effectively draw people's attention. It helps to generate trending videos immediately and make them target oriented as well. The tendency will keep on influencing the video automation industry, and automated video creation will boost its development in the future.