Crop video
Make sure your clip fits your video frame to maximize your audience's experience. Resize or crop your video!
How to Crop video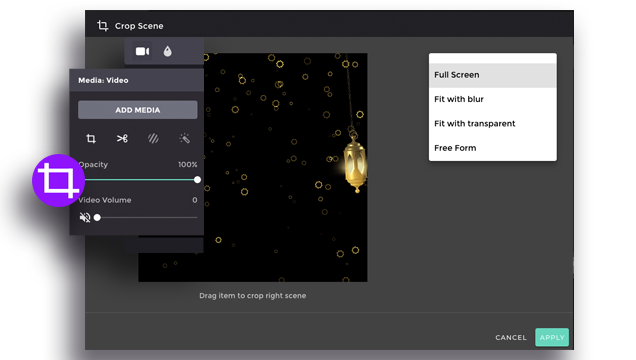 How to:
1. Select the clip
Select the video you want to crop or resize by clicking the selected clip. Click the "Media" button and click 'Crop' to start the editing process.
2. Resize the video
Fullscreen: Adjust the video to its optimal size.
Fit to screen: Depending on the layout you are using, it will automatically fit the screen of the layout.
Freeform: Drag the slider to adjust the size of the clip, after resize, you can also drag the clip to the position you want.


Click "Apply" to save the change and close the editing box. Preview the edited version by placing the cursor on top of the clip. Simply redo the process if you are not pleased with the result.
Other Tools
A cloud-base video editing platform. No need to download and install the software!
Create a video with zero of your personal media assets is now possible! Gliastudio provides thousands of free photo and video stocks for unlimited use! You can also paste your URL for more options.
Turn your images into video file that engaging in minutes!